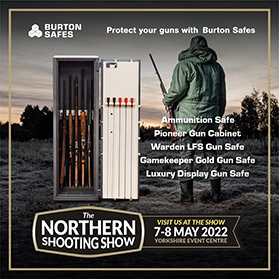 3 Great Reasons to visit the Northern Shooting Show
Burton Safes have a stand at the Northern Shooting show this weekend in Harrogate. Running this in partnership with a new gun shop customer.

The show runs from the 7th to 8th May. With doors opening at 8:30am on Saturday and 9am on Sunday.

Customers can buy products through Henry Krank with a special show discount availalable.
Why should the general public visit the show?
On display will be 4 product ranges. These are:
What advice on firearms storage can Burton Safes provide?
The Home Office has issued guidance for storing firearms and ammunition. This also includes removable component parts such as rifle parts.

The Police look at the circumstances of each case and at the security arrangements in place. This include the security of the premises.

Generally, the Police will consider three security levels when issuing a license:

Level 1
In most cases the use of a suitable security certified gun cabinet will be acceptable.

Level 2
Where extra security is required due to being in a high crime rate location. Or other Police considerations are applied. Security measures that could be needed:
Doors may need fitting with locks to meet BS3621
Intruder alarm covering the area installed
Higher grade cabinet or safe
Reducing the risk by using more than one gun cabinet or safe
Level 3
For the highest risk situations, the Police might request:
Multiple cabinets made to higher security levels
More advanced alarm systems
Armoured security doors installed
Why choose a Burton Safes gun safe or cabinet?
With firearms and approval of licences in the news during 2021. Customers will be interested in the announcement from Sold Secure on the level of certified cabinets.

Whilst the BS7558 standard has been around for a while. This has been recognised as relatively low level of testing. Sold Secure engineers have worked with Secured by Design. The result has been the release a new firearms cabinets standard. With three levels introduced, Bronze, Silver and Gold.

Bronze standard equates directly to BS7558. While Silver and Gold exceed that with further testing to make for higher security products.

Sold Secure are delighted to have seen a quick adoption of the SS032 Firearms Cabinets Standards. WithBurton Safes the first company to have products approved at all three levels. We also have the only Gold standard gun safe available!