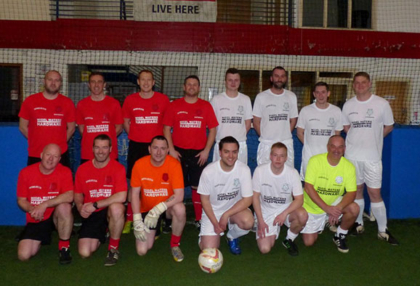 Burton Safes Raise Money for Huddersfield Town Foundation
Steve Keogh, Business Development Director, at Burton Safes comments "as a business partner with Huddersfield Town, I was fortunate enough to have a supper with the Dean Hoyle, Chairman and Owner of the Championship side. Through the evening he spoke with such passion about the Town Foundation and the great work they do within the local community to support young children."
Following the supper and a meeting with fellow Burton Safes Director Jeremy Elson, a keen amateur footballer, Jeremy had the idea of organising a 5 aside football match to raise money in aid of the Town Foundation. Steve, with his Lancashire team and Jeremy with the Yorkshire team of Burton Safes employees. The War of the Roses football match was born!
Each player donated on the day and a great contribution from the main sponsor Nigel Waters Hardware and Mindlabs Media who organised and printed the football kits.
With kits printed and teams selected, the location was named as Soccer City in Huddersfield Easter Monday – noon showdown.
The game started well for white roses of Yorkshire who took an early 1-0 lead after two minutes (clearly the red roses of Lancashire were suffering from jet lag) however, this proved to be a false down as Lancashire settled into the things and hit back with 12 without reply.
Lancashire continued to dominate the game and ran out victorious winners 24 – 4
Following the 5 aside match all the players made their way to Huddersfield Town Stadium for some light refreshments and to watch the Championship game against high flying Ipswich. The game proved to be a better result for this Yorkshire team as they took all 3 points with a 2-1 win.
Burton Safes would like to thank all the players, sponsors and all the team at Huddersfield Town for making this a great day for all!
Burton Safes managed to raise £335.00 for the Town Foundation and training has already begun for the next fixture
If you are interested to know about the initiatives run by the Town Foundation you can find out on their website: HTAFC Foundation