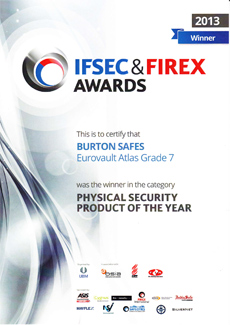 Burton Safes shortlisted for two IFSEC awards
Burton safes are delighted to have been shortlisted for two IFSEC & FIREX awards this year. These prestigious awards represent the pinnacle of acheivement within the UK Security Industry and to be finalists in two sections is a real honour.
The first product to be shortlisted is TSE FACE, in the Access Control Product of the Year section. This is an innovative biometric facial recognition module links up with the rest of the TSE access control system. To activate the module all you do is walk up to it and it automatically turns on. Then within 2 seconds it will recognise an authorised user and send a wireless encrtypted signal that will open the lock it is connected to. For more details visit the TSE product page.
The second product to be shortlisted is the Eurovault Atlas Grade 7. This is the UK's highest rated security safe and the only one currently on sale to have passed the EN1143-1 Grade VII attack test. What is more this was achieved at one of Europe's most prestigious and rigorous laboratories, SSF in Sweden. With a cash rating of £250,000 this safe offers £100,000 more than its nearest UK rival. See the Eurovault Atlas Grade 7 product page for more detail.
For more details on the IFSEC & FIREX awards visit the IFSEC website