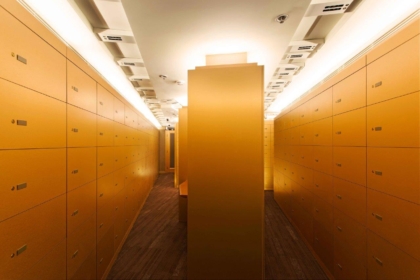 Burton Safes successfully delivers and installs prestigious Safe Deposit Centre in Hong Kong
Burton Security are celebrating 6 years since one of our largest and most prestigious safe deposit, access control and vault installations in Hong Kong.
21/04/17
Royal England Safe Deposit Box LTD celebrated today the opening of its first vault in Sheung Wan, Hong Kong. The opening ceremony had the grace of many guests including Mr. Dominic Pang, Chairman of Asia Allied Infrastructure, who were impressed by the exceptional safe deposit box service they have to offer. Royal England's vault is in the heart of the Central/Western District, the core business area of the city. It spans about 5,000 sq. ft. and offers over 1,400 safe deposit boxes and promises customers the most luxurious reception service.
The security management, control, and the design of the Royal England vault is provided by City Security Company Limited, who have received many international certifications affirming its capabilities and service quality. Furthermore, the materials used to build the vault, the safe deposit boxes, and other facilities are provided by European Union-certified, UK manufacturer Burton Safes. The Burton Safes brand is deemed to meet European Committee for Standardisation (CEN) EN 1143-1 VII (anti-theft and security) accreditation standards; and to ensure the vault complies with EU safety requirements, dedicated professionals were sent by Burton Safes to take care of the installation on-site.
In addition to its top-notch security system, Royal England puts the utmost attention on customers' privacy and confidentiality. The safe deposit box access system has no manual involvement in the entire process. The system takes care of authentication and allows customers to make a reservation using their phone or mobile App. The authentication of identity is done using a host of different measures including password, biometric identification, independent key and encrypted authentication programs. Moreover, the reservation procedure means the customer is given a private space for access of the safe deposit box. The boxes are not numbered and a special spotlight system is used to show the position of a specific box, assuring customers that they have all-round protection.
Mr. Dominic Pang, Chairman of Asia Allied Infrastructure, said, "The business of Royal England is built on the Group's determination to diversify its business. We are pleased that, supported by our rich experience in security services plus leading presence in the infrastructure development industry in Hong Kong, we are opening our first vault in Hong Kong in Sheung Wan to provide safe deposit box service to customers. The vault is equipped with the security system designed for casinos and safe deposit boxes that are EU anti-theft and safety certified and manufactured in Europe. And, complemented by our self-developed identity security measures, it can fully satisfy the need of high-end customers for premium personal safe deposit box rental service. We believe the opening of Royal England in Hong Kong marks the success of the Group in diversifying its business and, with our service scope expanded, we are enjoying greater synergies and competitive advantages, which are going to brace the long-term stable and sustainable growth of the Group."