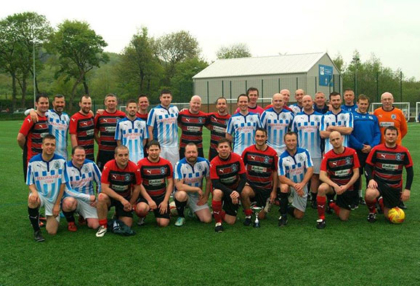 Huddersfield Town Business Partners v Staff & Coaches, Friday 8th May – Canalside Training Complex
Huddersfield Town Business Partners v Staff & Coaches
Burton Safes, Business Development Director – Steve Keogh, represented the company in the annual partners v staff & coaches at Huddersfield Town's Canalside Training Complex.
The annual event is open to all Huddersfield Town business partners and in addition to the football, also offered a great opportunity to network with other local business.
With a 3pm kick off planned, the Partners team of mixed age and ability starting to arrive in the changing room with enough time to spare to apply deep heat and bandages to their already tired body. The game got underway on time and it didn't take long for the Staff & Coaches to take the lead. The Partners were finding it hard to contain the opposition who were fielding a couple of ex pro's in the form of Town legend Andy Booth and only recently retired Lee Bromby who was playing for Leeds United only 2 years ago. It was Andy Booth himself, who bagged that next goal to take the Staff & Coaches team 2-0 ahead.
The Partners team settled into the game and started to create chances with one paying off, which took the game to 2-1 at the half time whistle.
The second half started much like the first with the Staff & Coaches getting another early goal to take them 3-1 in front. From that point the Partners started to dominate proceedings, creating a number of chances only to be denied by some fine goal keeping. With 10 minutes to go the Partners team were awarded a penalty for a reckless challenge on the box. The penalty was confidently despatched and the Partners went all out for the last 10 minutes in search of the equaliser. With a minute to spare and the Partners are pressing for the equaliser, the Staff & Coaches broke on the counter attack and put the game beyond doubt scoring a fourth goal.
At the final whistle the game ended in victory for the Staff & Coaches 4-2
Steve Keogh adds "although the result wasn't the one we wanted it was a great experience to play at such a great complex and against a good team including some ex professionals. We'll be back next season to try a get our hands on that trophy"
Burton Safes would like to thank John Williams, Huddersfield Town Commercial Manager – Partnerships for organising the match and also to Mike Gore, Blue Apple Training who managed the Partners team excellently.