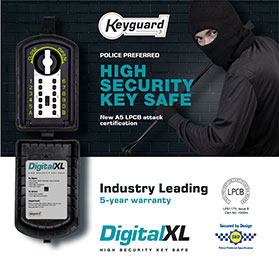 Launch of improved Keyguard XL – now with LPCB A5 certification
We are excited to announce the launch of our improved high security key safe the Keyguard XL.
Now tested and certified by LPCB to LPS1175 Issue 8 A5. The key safe is attack certified for 5 minutes. In comparison there are many cheap key safes available on the market which can be opened in seconds. 
The Keyguard XL is built to a Police Preferred Specification. Giving consumers peace of mind their keys are being stored securely.

We have also taken the time to refresh the look and feel of the packaging. Making it look more attractive for our customers to have on the shelf. While we have also improved the instructions to ensure a clearer experience for consumers. 
Key features of our Keyguard XL
Tested and certified by LPCB – UK testing laboratory – respected both UK and worldwide
Hi-vis keypad – helping ease of operation
Permanent weather resistant cover – doubles up as fixing template
Industry leading 5 year consumer warranty
How is our product used?
Home – provide access for family, friends and service provides to securely stored keys 
Community Care – giving controlled access to NHS and healthcare professionals
Holiday Lettings – secure access for holiday homes
Commercial – from banks to retail to automotive, secure key access is essential
What certification does it have?
LPS1175 Issue 8 A5 by LPCB
Police Preferred Specification – approved by Secured by Design
For more information and new images visit the Keyguard Digital XL Key Safe page