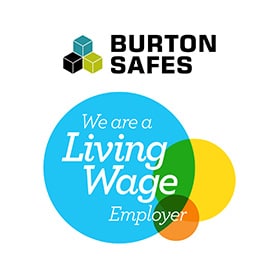 We achieve Living Wage Employer accreditation
Burton Safes has joined a wide range of employers that pay the Living Wage. These include household names such as Nationwide, Google, IKEA and Nestle. It is not all big business names though. We are proud to be one of many small UK businesses who have achieved accreditation.

By paying the real Living Wage, we are taking a stand to ensure our staff can earn a wage which is enough to live on. We have chosen to go further than the government minimum, as it is the right thing to do.

This is a long term investment in our staff. We believe that by providing good working conditions and a fair wage it will allow our business to flourish.
What is the Living Wage?
This is the only UK wage rate that is voluntarily paid by over 10,000 UK businesses. Over 300,000 employees have received a pay rise as a result of the Living Wage campaign. The foundation benefits from cross-party political support.
What did our Financial Director have to say about the accreditation?
Richard Sullivan has this to say: "Striving to be a good employer matters to Burton Safe. Our staff are our most important asset. Whether it's by paying a fair wage for a hard day's work or a strong benefits package. Our company wide bonus scheme or events for our staff and their families. Making sure that our people feel valued is something we take very seriously. The Real Living Wage foundation do fantastic work to understand the real cost of living in the United Kingdom. They advocate for employers to pay a fair wage that covers these costs. We are proud to be an accredited Real Living Wage employer."