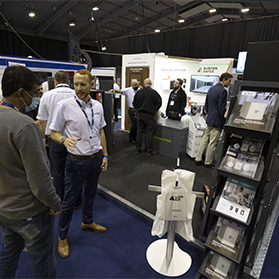 MLA Success Story – Real Win Meeting Customers Again
Burton Safes were proud to showcase it's unique stand. Built from a real working panic room complete with security doors. It gave our sales team a real opportunity to discuss not only safes. But also physical security products that our clients do not get a chance to see.

The real win for us a business was without doubt being able to meet existing and new customers once again.

Safes that were of particular interest were our Amario grade 3 and luxury display safe. With high quality bolt work and stylish paint finish, the Amario is a compact range. That our customers thought would appeal to the general public. While our luxury display safe got a lot of interest. It is ideal for high net worth individuals and jewellers. One locksmith customer discussed it with a local jewellery company while at the show.

Our security doors were also of interest to many customers. Impressed at the number of options to customise. This enabled us to generate a good number of leads.

We would like to thank all the customers who took the chance to visit us in Telford. Your visit to our stand was appreciated. We look forward to seeing you at your premises to discuss further opportunities in the near future.