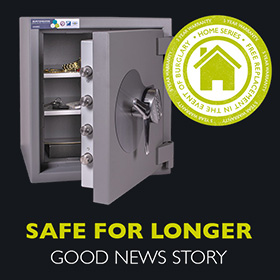 Safe for Longer – Good News Story
It is never nice to hear that a consumer has been the victim of a burglary. We are delighted to report that despite significant attempts and tools to force open the safe, the thieves failed to gain access.
What is the Warranty Scheme?
The safe purchased by the consumer was part of the Safe for Longer warranty. Meaning that they received a replacement safe free of charge as a result. Whenever anyone is burgled it is a difficult time, the replacement was swiftly delivered and installed by one of our customers. Giving the consumer peace of mind that their valuables were secure again.
What do consumers need to do?
When a consumer purchases a safe model that is part of Safe for Longer. To ensure they are part of the scheme, a simple registration of details via our website is all that is required. The following details will be needed:
Product Name
Serial Number
Date of Purchase
Retailer Purchased from
Consumer Address
Trade Locksmith Customer Quote
Here is what our trade locksmith customer had to say about the attempted burglary:
It was fitted by ourselves upstairs in a property, and they did not manage to gain entry or remove the safe (despite being on site for significant time and using heavy weight tools). 
And just to add, that safe is worth its weight, I cannot believe how well it stood up to the attack.
Once the safe had been delivered and fitted:
I just wanted to say a massive thank you to you and the team at Burton Safes. The consumer is so happy with the replacement safe provided and it has been one less thing for her to worry about during a difficult time. The guys delivering it today did an excellent job today and even offered to give me a hand moving into to position after I got the fixings in if needed. 
Excellent customer service and an excellent guarantee. Thank you again for all the help with this.